The Brand New Avant Browser 2012 Ultimate with Tri-Core Rendering and More Exciting Features
LOS ANGELES, Jan. 3, 2012 /PRNewswire/ -- Avant Browser has been devoted to providing the best surfing experience for years. The browser has been recognized as a fast and stable browser with easy-to-use features. Recently, Avant Browser has announced a brand new version which fully integrates three rendering engines behind Internet Explorer, Firefox and Chrome. Visit official site: http://www.avantbrowser.com/
New Features:
Switching between and customizing active rendering mode
The browser with Tri-Core Rendering provides the options for users to switch between three render engines for each webpage(Picture 1). Users can assign different browser engines for different websites; Avant Browser will automatically switch browser engines when users navigate between these websites. For example, users may assign Chrome engine for online Banking websites, and Firefox engine for FTP websites, when navigating from online banking websites to FTP websites, the browser engine will switch from Chrome to Firefox automatically(Picture 2).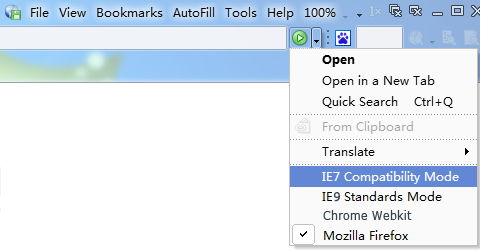 Picture 1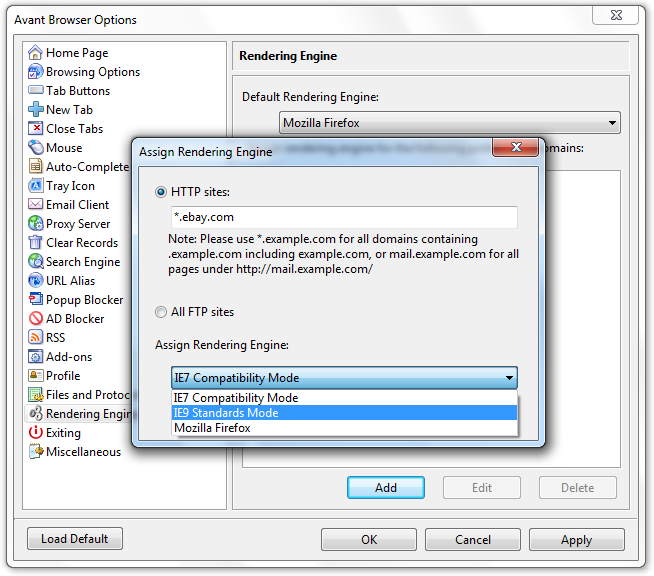 Picture 2
Automatically log into accounts saved by AutoFill on startup
Many browsers have the AutoFill feature. Avant Browser has taken that a step further by providing users the option to automatically login(Picture 3) to any sites with AutoFill feature at startup(Picture 4). If you always login certain web sites after starting your browser, you will find it convenient to have them start and logged-in automatically.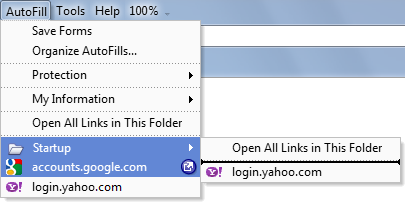 Picture 3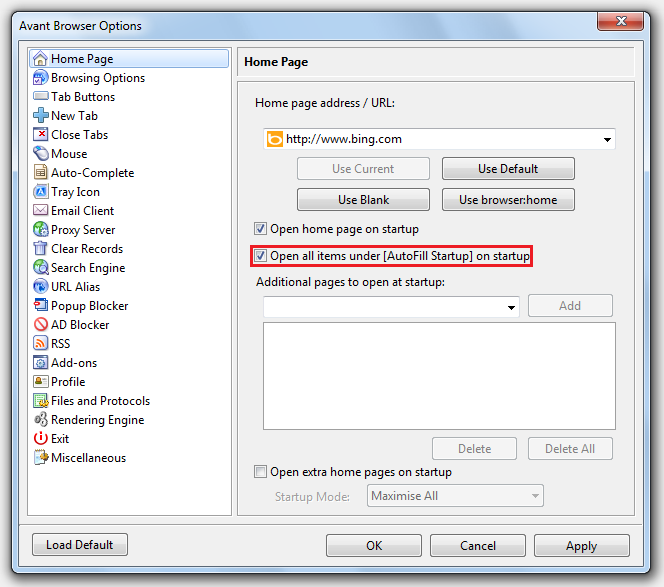 Picture 4
Stay on Top Floating Tabs
A detached tab(Picture 5) is a web page which can be detached from the main browser window which has a "Stay on Top (picture-in-picture)" feature. It can hover above all other applications. For example, a web based messenger can remain in the foreground and visible while you're working in another application such as MS Word. This feature is highly useful for those who multi-task with interactive web-based applications.
Picture 5
Avant Downloader / Video Sniffer
Many browsers support the download of common files like full web pages or images. Avant Browser brought that feature to a higher level, when Avant finds a video it can grab it from a web page, a "Download Video(s)" box will appear in the top right-hand corner of the web page, giving you quick access to save the file to a designated location. Best of all, unlike paid products like Internet Download Manager, Avant provides this feature completely free-of-charge. The video downloader can be run from within Avant Browser or separately as a stand-alone application(Picture 6).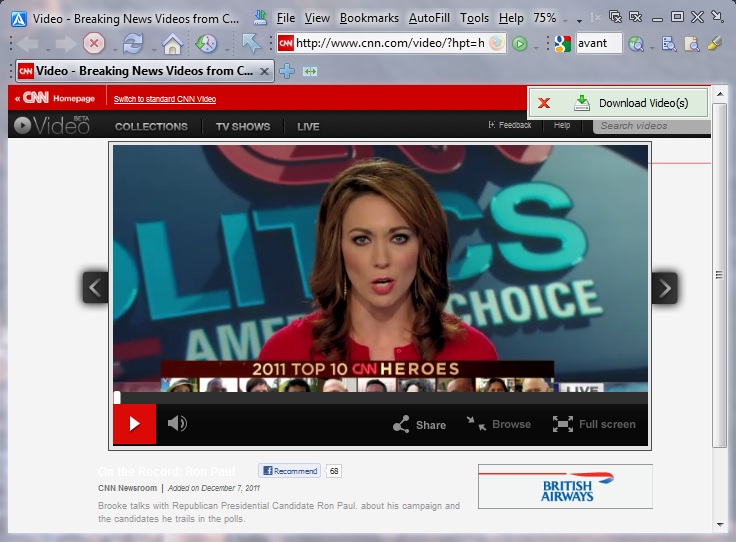 Picture 6
Split Views for multi-task users
Split view(Picture 7) adds to Avant Browser's multitasking functionality by providing an easy way to view two different web pages side by side. Split view adds another dimension to Avant's customizable interface layout. You're able to watch online videos and browse headlines at the same time while remaining completely in control of what's happening in your browser. This feature is also useful for people who like reading different opinions of stories from different sources or similarly if you're learning a new language and viewing different language versions of Wikipedia articles.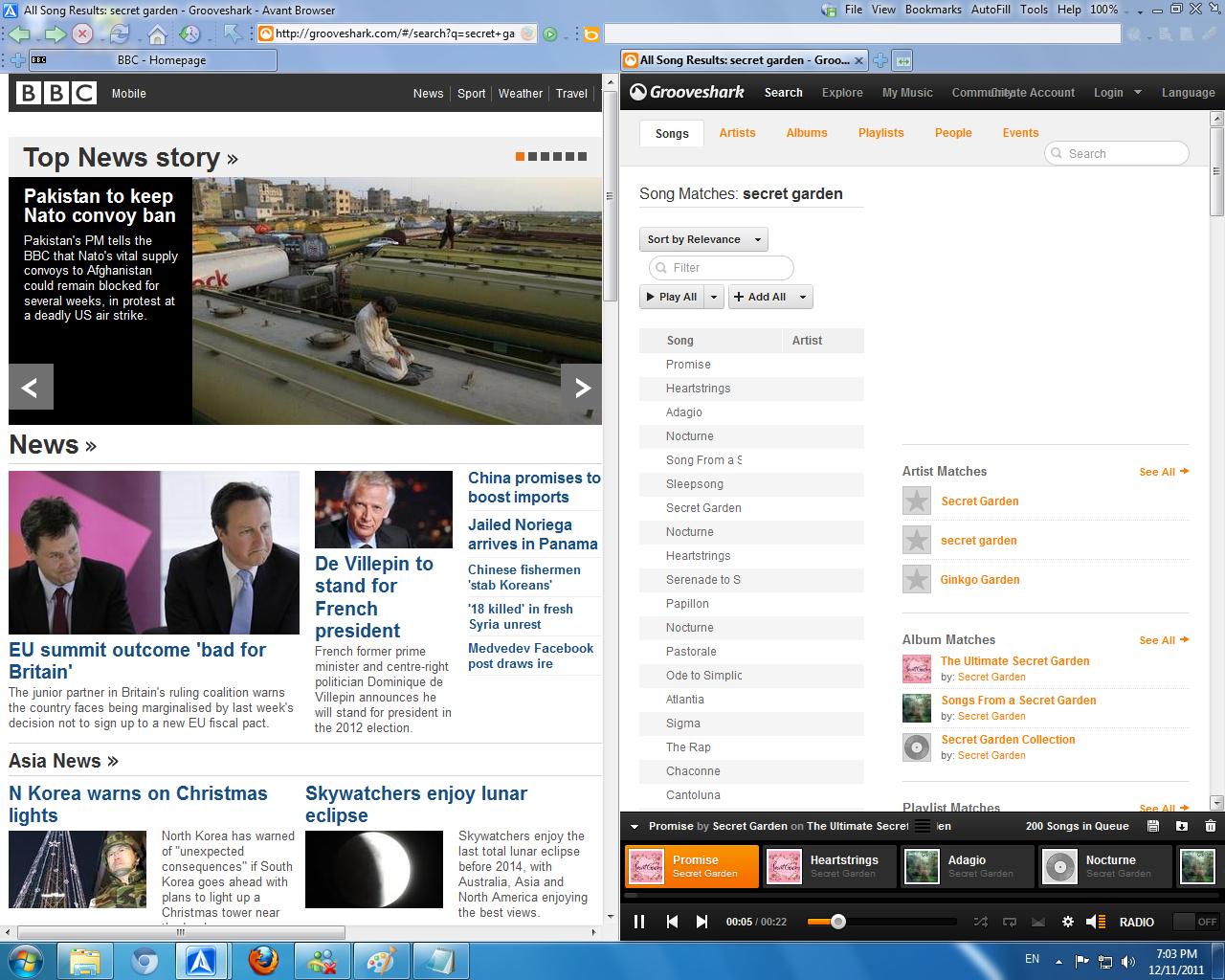 Picture 7
Click http://www.avantbrowser.com/download.aspx to download Avant Browser, instructions for the new features can be found at: http://forum.avantbrowser.com/